About Tsuruta
TSURUTA TOWN | 鶴田町
Tsuruta is located in Aomori Prefecture at the top of Honshu, Japan's largest island. It is served by the local stations of Mutsutsuruda and Tsurudomari, as well as the nearby bullet train service from Aomori City, which takes approximately three hours to reach Tokyo. Tsuruta is an hour away by car from Aomori Airport, with international and domestic flights departing daily.
Temperatures in Tsuruta reach as high as 30°C in summer and as low as -9°C in winter, with heavy snowfall on the nearby Mt. Iwaki providing the perfect place to ski and snowboard.
Tsuruta is famous for its production of Steuben grapes and delicious apples, which bring the countryside to life during summer.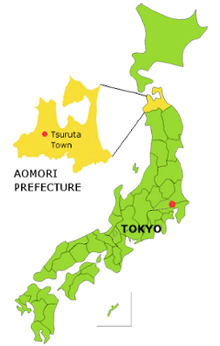 Population: 14,472 (as of Dec 2010)
Total Area: 46.4k㎡
Sister City: Hood River, Oregon, USA
Municipal Tree: Japanese Pine
Municipal Flower: Apple Blossom
Municipal Bird: Japanese Red-crowned Crane
SISTER CITY PARTNERSHIP | Hood River, Oregon, USA
The Tsuruta-Hood River Sister City partnership was established in 1977 by Hood River's Ray T. Yasui and Tsuruta Town mayor Kenji Nakano. The partnership was founded on the similarities between Tsuruta Town and Hood River, such as their apple orchards, the presence of many second generation Japanese-Americans in Hood River, and the similarly stunning figures of Mt. Hood and Mt. Iwaki. Since the creation of the partnership, groups of Junior High School and High School students have participated in annual exchanges between Hood River and Tsuruta, in addition to several adult group visits. Furthermore, Tsuruta Town employs a Hood River citizen to work in the town office to liaise between the two cities.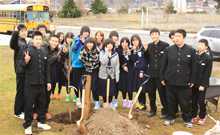 INTERNATIONAL EXCHANGE | Coordinator for International Relations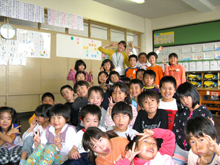 Tsuruta Town employs a Coordinator for International Relations (CIR) through the Japan Exchange & Teaching (JET) Programme, ordinarily from a country other than the USA. Previous CIRs have hailed from the United Kingdom, New Zealand, Australia and France. The CIR visits local youchiens (kindergartens) and primary schools to teach English and about foreign culture. They also organise the yearly bunkasai (Culture Festival) and Tsugaru-ben Taikai (see "Sightseeing & Events" for more information).