Sightseeing&Events
CHERRY BLOSSOM FESTIVAL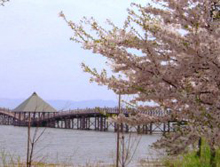 Every year from the 3rd to the 5th May, the 1,600 cherry blossoms trees planted at Fujimi Lake reach full bloom and cover the park in pink sakura. To celebrate this beautiful sight, several events are organised for townspeople and tourists alike to enjoy.
Fujimi Lake One Lap Marathon
From elementary school students to senior citizens, dedicated competitors run the entire stretch of Fujimi Lake.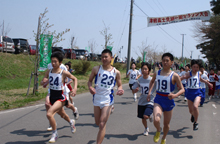 Crucian Carp Fishing Tournament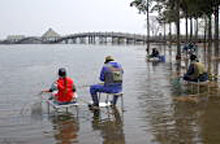 Fujimi Lake is known as one of Japan's best places to fish for Crucian Carp, and anglers come from all over the country to compete in this tournament.
Tsuru no Mai Bridge National Karaoke Tournament
Singers choose one of two songs that include "Tsuru no Mai Bridge" in their titles (listen here and here) to compete to perform the best rendition. Participants even include people from outside the prefecture looking to show off their vocal talents.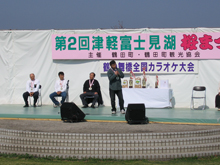 TSURUTA SUMMER FESTIVAL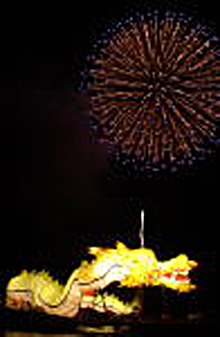 Tsuruta Festival takes place in both the town centre and Fujimi Lake Park every year, from 14th - 16th August. Highlights include the majestic nebuta parade and spectacular fireworks display over Fujimi Lake.
Dragon Roll Sushi
To mark the start of the summer festival, volunteers stand shoulder to shoulder to make a 656ft dragon sushi roll. Anyone is welcome to join this fun event!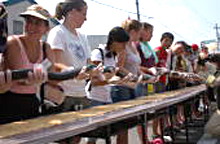 HANDS-ON HARVESTING
Cherry Picking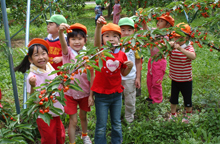 Every year from the end of June to the beginning of July, children and adults alike can experience this popular pastime.
Apple & Grape Picking
From the beginning of September to the end of October the apples and grapes that were lovingly grown by Tsuruta's farmers are ready to be picked.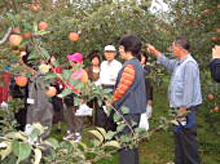 TSUGARU-BEN TAIKAI (Tsugaru Dialect Competition)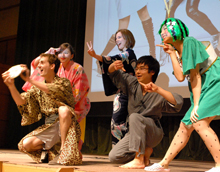 In keeping with Tsuruta's slogan of being "the home of international exchange", every year Tsuruta hosts the prefectural Tsugaru-ben Taikai, a competition for foreigners to try their hand at speaking the local dialect that leaves even native Japanese speakers baffled. Participants from all over Aomori Prefecture perform skits or songs to showcase their linguistic skills. The competition is even broadcast on local television, and has gained widespread popularity since it started in 1997.
CULTURE FESTIVAL
Every November a Culture Festival is held at Tsuruta Community Centre, where local artists, school children, photographers and more put on exhibitions of their work or sell homemade delicacies. The Coordinator for International Relations also displays a booth in a section called World in Tsuruta, to introduce his or her home country to Tsuruta residents.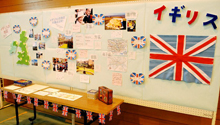 FUJIMI LAKE PARK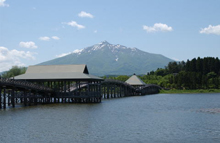 Boasting natural beauty and stunning scenery, Fujimi Lake Park covers 12.4 hectares of land, upon which Japan's first 360° loop slide was built. There is also a children's playground and BBQ area, amongst many other attractions. Fujimi Lake Park is also home to Tsuru no Mai Bridge which crosses the Mawarizeki Ootame Pond reservoir, a crane sanctuary and a museum, as well as hosting events throughout the year.
Tsuru no Mai Bridge
Length: 300m (328 yards)
Height: 3m (10ft)
Pier Diameter: 30cm (12 inches), constructed from 700 columns of over
150-year-old wood
Materials Used: Aomori-grown, first class Japanese Cypress
Quantity Used: 3000 logs, 3000 planks
Total Construction Cost: ¥260 million
Reservoir Name: Mawarizeki Ootame Pond, more popularly known as Tsugaru Fujimi Lake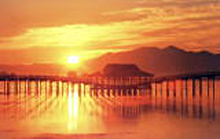 Crane Nature Park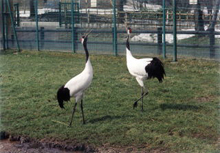 During the Edo period, great numbers of cranes flocked to Tsuruta Town. In 1992, the townspeople requested an area where they could view Japanese red-crested cranes, so a year later a sanctuary was built to house two cranes acquired from China. Since then, Japanese cranes have been born and raised in Tsuruta.
Tsuru no Sato Town Museum
This 120-year-old house gives townspeople a taste of living standards of the past. Using reconstructed materials wherever possible, it even boasts a traditional cooking stove.